Four-faith night Vision Patrol Device in overhead transmission line
Release time:2020-07-27 14:45:25
Four-faith night Vision Patrol Device in overhead transmission line
| | |
| --- | --- |
| | Due to the exposure of outdoor overhead power transmission lines, electric shock and power failure accidents caused by man-made damage and natural disasters often occur, especially at night when visibility is low. Therefore, for the stable and safe operation of overhead transmission lines in day and night, it is particularly important for the monitoring device to have all-weather line monitoring function. |
Industry demand
There are construction sites near overhead transmission lines day and night, accompanied by large-scale construction machinery operations, such as tower cranes, cranes, pump trucks, etc.
There are amusement places Open Day and night near overhead transmission lines, and flying objects may appear, such as kites, balloons and drones.
Overhead transmission lines pass through mountainous areas, which may cause natural disasters, such as landslides, wind and trees falling, snow and ice covering, etc.
If the overhead transmission line crosses the highway area, there may be the accident of ultra-high contact line, such as over-high contact line of truck.

Solution overview
In order to meet the requirements of night patrol of overhead transmission lines, Sixin launched a night-visible low-illumination device, which has 16 million universal light lenses and 2 million low-illumination night lenses. In the daytime, the general light lens with high pixel is adopted, and in the night, the night vision lens with low illumination is adopted, so that the device can continuously monitor the condition of the line channel 24 hours a day, ensuring the safe and stable operation of the line.
Four-faith patrol device with the function of night vision in the application of overhead transmission line scheme can ensure 24-hour non-stop pictures, and sends the image to the platform, the platform of intelligent analysis of live pictures, when found the scene with ultra-high objects close to the line, the first time to send the information to the managers, platform distributed alarm command at the same time, make the site send out sound and light alarm signal, alert the field staff to with line safe distance; When natural disasters occur, managers can check the site situation through the platform and make accurate pre-implementation plans to minimize the occurrence of accidents caused by natural disasters.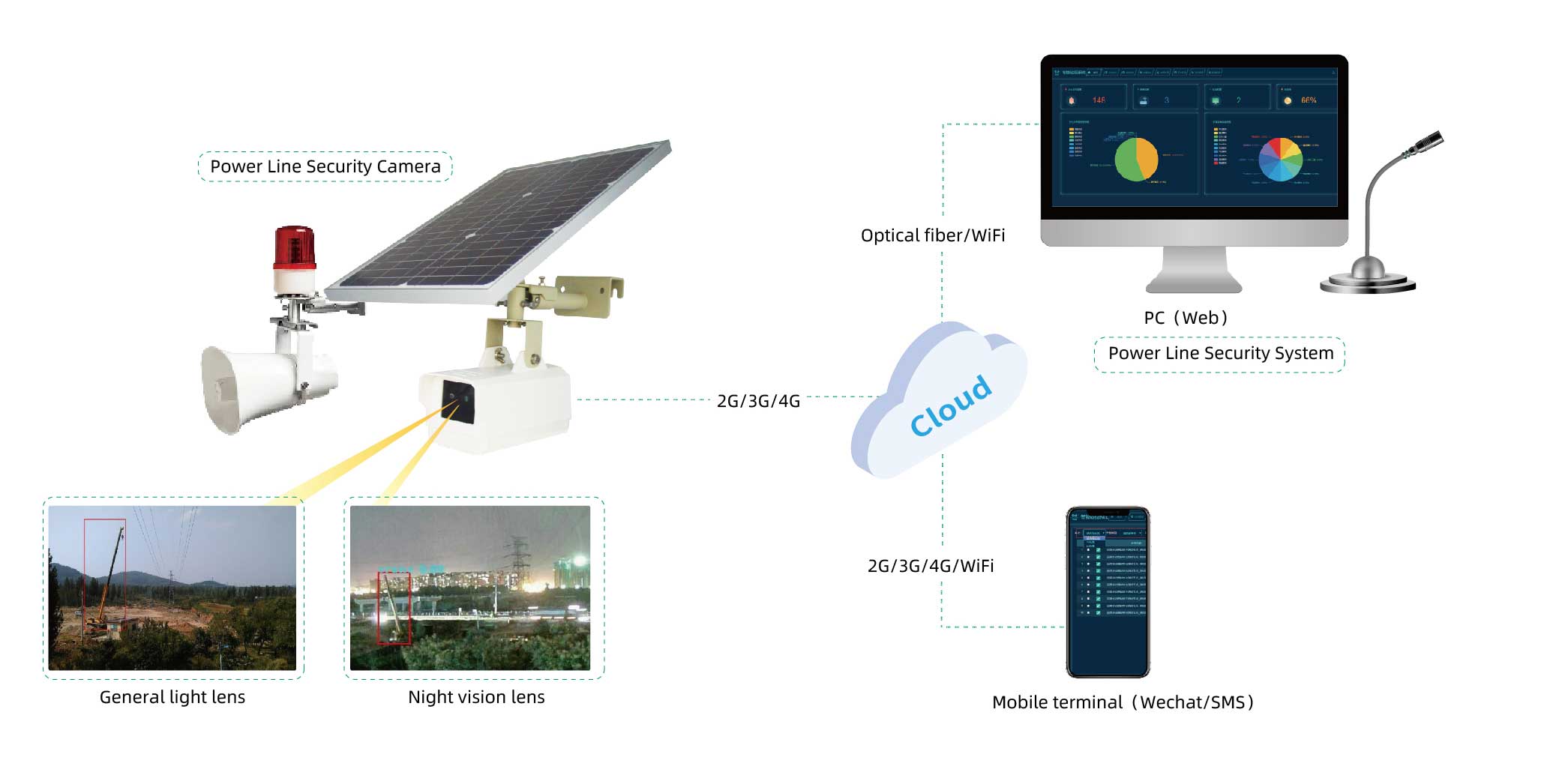 Solution Highlight:
1. Monitor the safe state of the line channel 24/7 to ensure the safe and stable operation of the line to the maximum extent
2. Historical pictures and videos can be accessed to restore the scene and reduce the verification cost when the accident occurs
3. Check the line condition online in real time to reduce the input of line inspectors and save labor costs
4. Receive alarm information when SMS/Reliance, and know the running status of the line anytime and anywhere
The application case