Overhead line fault indicator location solution
Release time:2019-08-15 16:46:11

  The Fault Indicator is usually used on overhead line of medium voltage (5~38KV, can be customized to 44KV, 69KV and 110KV) distribution networks. Short-circuit fault and single-phase earth fault can be detected and indicated by mechanical red flag or three ultra-bright blinking LEDs, which can be seen from 360º sight. The fault information and load current value can also be transmitted to the SCADA system.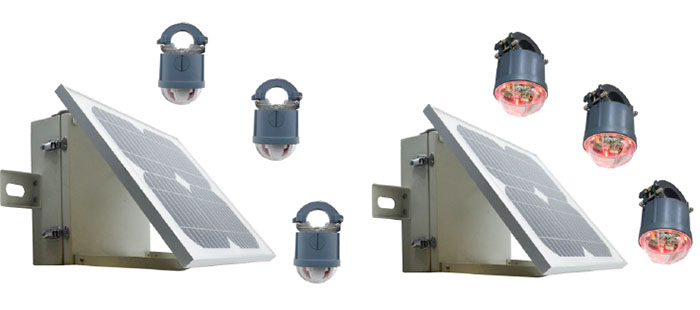 A mounting point usually have one Data Concentrator Unit (DCU) and three fault indicators (phase A, B, and C). The Fault Indicator will monitor line status and communicates with DCU through 433MHz module, DCU will transmit data to SCADA system by GPRS/3G/4G. When there is fault on the line, SCADA will send out alarm and locate the fault position, which can help maintenance personnel to solve problems efficiently.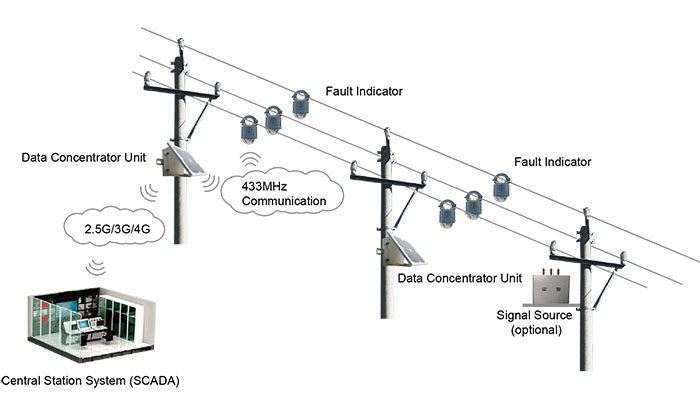 a) Transient/Permanent short-circuit and Earth Fault detection

  b) Monitor the line status, e.g. load/fault current, line temperature, electrical field

  c) Highly visible local indication (LED flashing or red flag)

  d) IEC101/IEC104/DNP3.0/MODBUS protocol between DCU and SCADA

  e) 2G/3G/4G/5G or serial port communication between DCU and SCADA

  f) License-free radio: 433Mhz/868Mhz/2.4Ghz between indicator and DCU

  g) Time-stamped alarms and event log

  h) Support 5 SMS number

  i) Ultra-low power consumption

  j) Power self-sustained Solution

  k) Highly accurate measurement

  l) Remote configuration/upgrading

  m) Voltage level up to 110kV

  n) Protection level IP67
Fault Location System (SCADA)
    
DCU will upload information to Fault Location System, when there is fault on the line, it will send out alarm and locate the fault position. In addition, Fault Location System is able to have remote control and upgrading of indicator and DCU.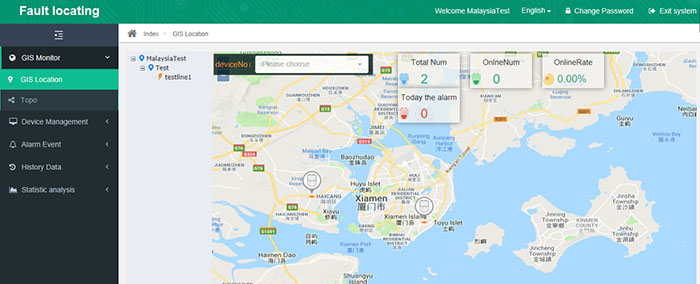 Successful Project Example
  Fuzhou is located in a mountainous area, which brings trouble to line maintenance and fault repair. In order to solve this problem, Fuzhou Power Supply Company used our fault indicator system on overhead lines. Once the fault occurs on the line, the fault current, electric field and other information can be collected quickly and accurately to DCU, and then uploaded to SCADA system. SCADA can locate the fault points with the help of GIS technology and inform the relevant maintenance personnel by means of short messages, thus effectively shortening the time of locating the fault locations, improving the efficiency of emergency repair and ensuring the reliability of power supply.