Four-Faith Communication Management Machine-Improve Ubiquitous Connectivity
Release time:2020-03-03 14:07:27
Four-Faith Communication Management Machine-Improve Ubiquitous Connectivity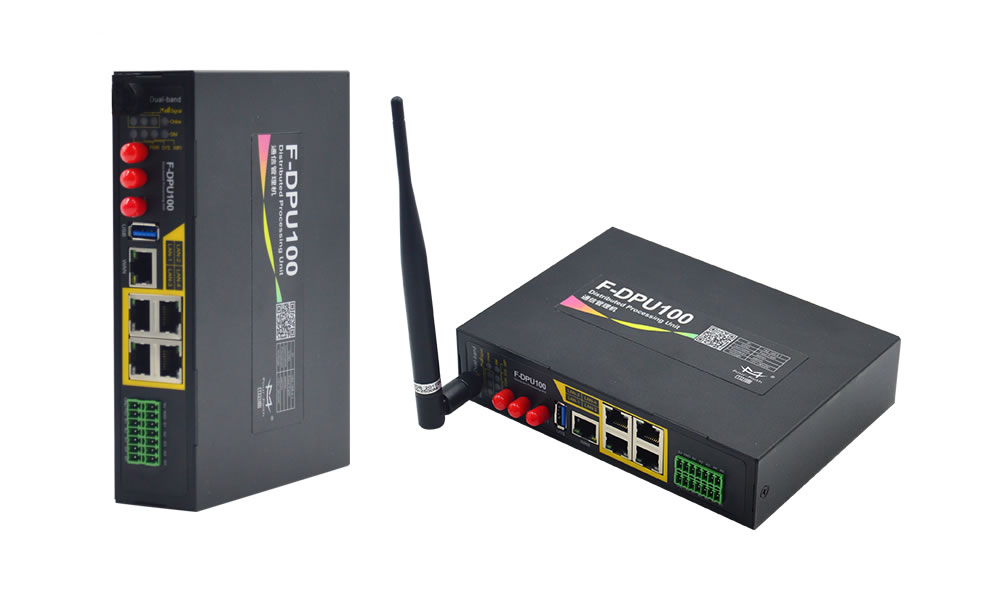 Product introduction:
The Four-Faith communication management machine F-DPU100 supports multiple protocol conversions, adopts high-performance industrial-grade wireless modules and 32-bit communication processors, and is equipped with a WTD watchdog design to ensure system stability and permanent online equipment. This product has been widely used in the ubiquitous power Internet of Things industry, such as power monitoring, energy efficiency management, smart power distribution room, smart box change, substation automation, photovoltaic wind power generation, building automation, remote meter reading, etc.

Product topology: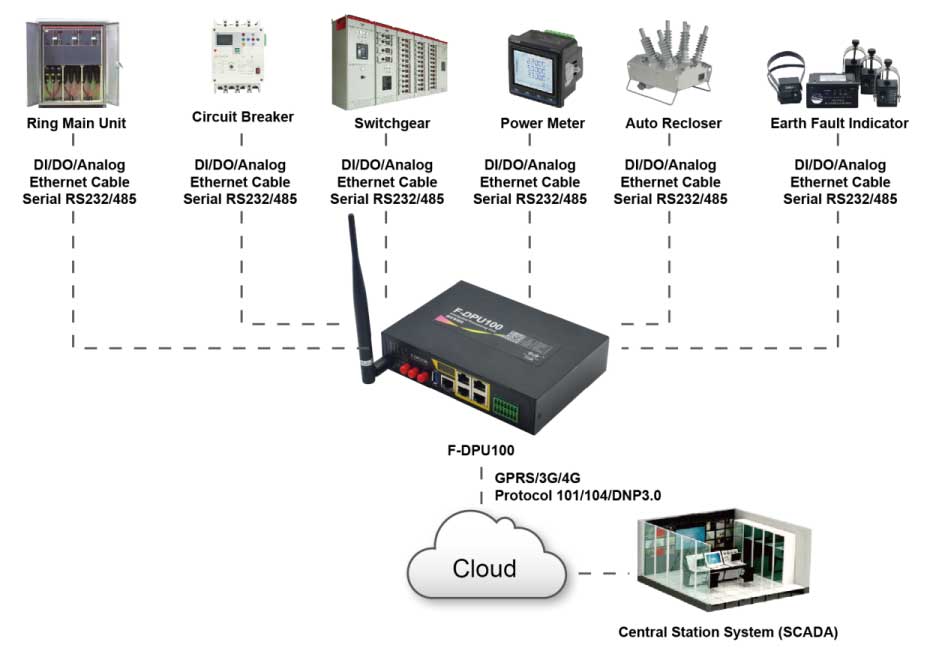 F-DPU100 has multiple Ethernet, RS232/RS485, DI/DO interfaces, and can be connected to various sensors, power meters, integrated relays, transformer temperature controllers, DC screens, diesel generators, etc., compatible with MODBUS, 101, 104 and other common uplink and downlink protocols, support 3G/4G or Ethernet data upload, realize the interconnection and intercommunication of power equipment and master station data.
Product Features:

Complete data collection and multi-protocol forwarding functions
It can flexibly read the data of a variety of power equipment, with high integration, and effective data aggregation in multiple channels; configuration and docking of multiple power energy management application platforms to facilitate other system integration。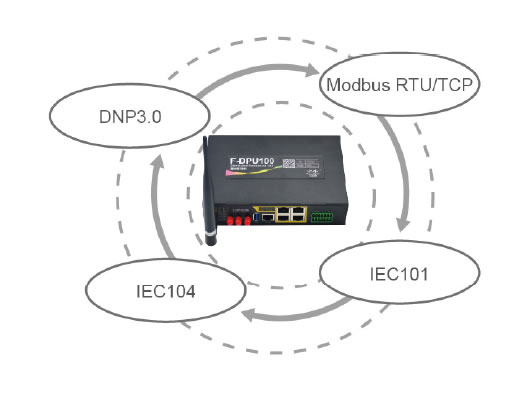 2、Provide dual transmission channels to ensure that the terminal is always online
Support 2.5G/3G/4G/NB-IoT cellular network and wired WAN, dual-link intelligent switching backup; support 2.4GHz, 5.8GHz dual-band Wi-Fi, provide strong support for WIFI coverage and operation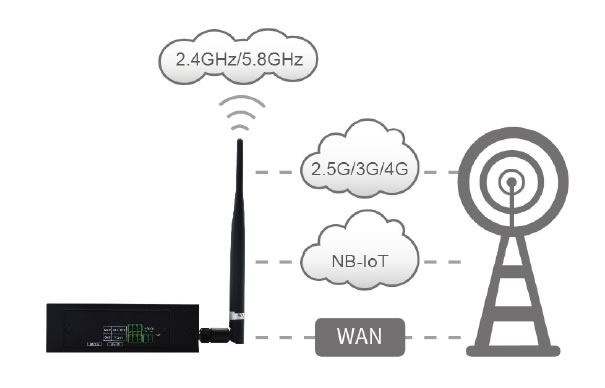 3、Multiple communication interfaces, flexible data forwarding
Provide a variety of high-speed and reliable communication interfaces such as Gigabit Ethernet, I/O port, RS232/RS485, etc., to meet various methods of data collection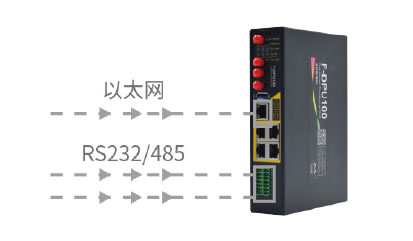 4.Support advanced routing functions
It supports APN/VPN private network, and the device has multiple VPN connections of IPSEC, PPTP, L2TP, GRE, OPENVPN, and functions such as VPN client and server. A layer of encrypted transmission is added on the basis of the private network to fully guarantee the security and accuracy of transaction data and management data.

5.Device remote configuration, upgrade and maintenance
The supporting remote management and control platform centrally monitors, configures, upgrades, diagnoses, maintains, and manages a large number of scattered equipment in various regions. Greatly reduce the maintenance costs of operators, integrators, equipment providers and other parties, and improve management efficiency
.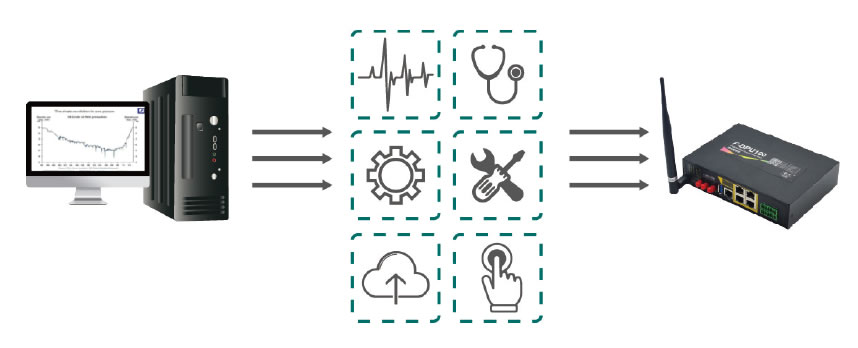 6.Rail or horizontal installation is more flexible
All-metal chassis, high-efficiency industrial design; rail-type and horizontal compatible design, easy installation and maintenance.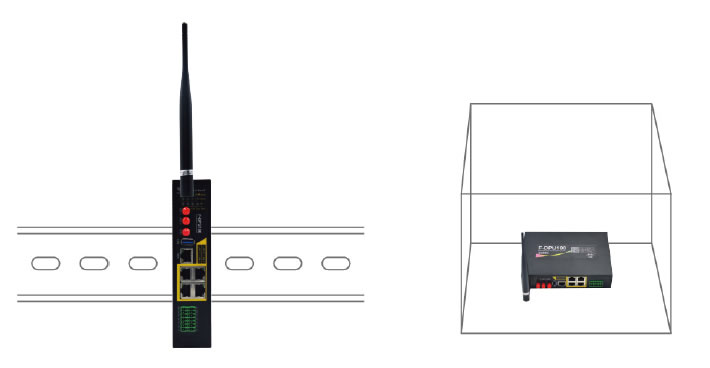 7.Highly reliable hardware to ensure stable operation of equipment

Adopt high-performance industrial-grade wireless module, support -35℃~+75℃ extremely wide temperature design, easily adapt to high temperature and severe cold working environment, provide reliable networking and stable communication for unattended systems.

Applications: